Pregnancy, Patience & Progression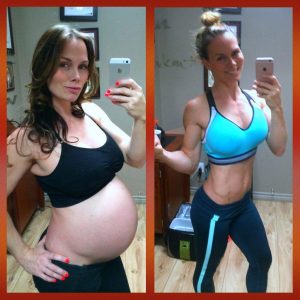 Nine months pregnancy, plus 18 months to return to this body.  That would be 27 months total.
OMG!  Almost 3 years!
I did this twice, with a massive gap in between. [My older son is 11 years old]
Most of my friends have 3 and 4 children 👶 , however, they are also much younger than me 🤷‍♂️
Giving up control of my body during my pregnancy was hard for me, as I am in control of everything. My training, the food, the timing, sleep, bathroom etc.
After getting pregnant the first time,  I questioned:
❓Were my abs ever going to look the same again?
❓Will I lose the weight?
❓Will things go back to where they are supposed to be?
❓Will I still me me?
Both pregnancies were light on 🏋training.  I had hip pain with the first and a 9-month layoff from the gym. For #2, serious rib pains side lined me, so I trained to keep the blood flowing, but it was never as intense as some pregnancy videos you see – like burpees/box jumps and heavy deadslifts.
On the nutrition side of things, I ate whatever I wanted, whenever I wanted.  I ate lots of fast food (nausea), cakes, every cookie offered to me—I basically let loose (whohoo), and I paid for it.  I gained 65lbs with my first (super hungry), [learned a major lesson], and 35lbs with the second (not hungry, and lots of heart burn)
Those women who post post baby bodies that look amazing weeks after having a child.
Yeah, that was not me.
No amount of lighting, posing, or spray tan could make me look thinner just those tender weeks after having a child.
And to reflect back, and compete 7 months after having my first —> my older wiser self now thinks I was nuts 🥜
I knew the second time around, I would need to be more patient with my body,  as I was 10 years older, AND having another C-section.  My first 'workout' post pregnancy was climbing the 13 stairs in my house.  The recovery from this 2nd C-section was actually worse than the first.  I remember going to the neighbours across the street for a visit, and coming home, knowing I did too much that day
So walking was my go to workout for months.  Not just weeks, months!
Eventually, step by step, day by day, time passes and you get better, stronger, the weight comes off, you wait, and try to beat yourself in the gym, the next time you train – 1 more rep, 5lbs more to the bar, walking faster than the week previous
Lots of plateaus along the way, where you just hang out at a certain weight, work hard, and NO CHANGES
Totally frustrating I know 😐
What I have learned through these two pregnancies:
A deadline keeps the goal at the forefront of the mind, but you have to remember life happens, and your goal should be adjustable due to the circumstances you are under
I have changed my whole mindset to show prep, and training to get lean.  I put the work in when I have the time, and stress much less if the situation is not perfect or if I cannot train that day
I am no longer a gym diva. I can train anywhere, and with any equipment, if I am unable to leave the house.
Give yourself a break, lighten up the pressure a little, and work toward the goal, consistently, 🔐 , rather than setting an absolute date, and throwing your entire world out of whack
Patience. Eventually you will get THERE – if it is 3 months from now, or 6 months, or even 1-2 years – does it really matter?  Stepping on stage, or just looking/feeling better in your own skin is a process, as long you are doing your best, you cannot be disappointed.
Looking at these 2 shots, I actually like myself in the pregnancy picture better – I might need to go back to brown hair
Hmm…🤔