Hi Everyone-
Finally, I am back in Canada. It has been a wild 3 weeks, but after all this travel you really come to appreciate how simple your life can be, and return home renewed, and motivated to continue on with your life.  I had gone to Thailand two previous times, and Sri Lanka, and Qatar the previous Christmas so I understood what the flights were like.  One time we left for JFK in New York and that flight was 16 hours straight. This time we had not a great flight path – Montreal to Zurich to Bangkok, then to our final destination Phuket (pronouned pu-ket), Thailand.
It was more than 30 hours of travel in total. Luckily our first flight was first class, however, the rest of the legs were in the nosebleeders, and with a 4 year old that can get a bit tight.
We survived, and landed to 40 + degree Celsius weather.  All I wanted was real food, and a shower.
We had one day in the heart of Phuket (most of which we just wanted to sleep) and then traveled to another destination for the week – a place on the island of Ko Lanta called Baan Phu Lae.  It was the last hotel/beach front huts on this island.  It was another 4 hours of driving and 2 boat crossings.  It was long, but again being in a car with air conditioning and plenty of sun it was manageable.
Seeing the beach was the best reward at the end.  I did pack food to take with me but after about 2-3 days it was not safe to eat this food.  If you have never been to Thailand, the best thing about Thailand is that eating at a restaurant is very, very cheap.  A meal at a regular restaurant can run you about $3 maybe less depending on where you get your food. Sure the food is not prepared a competitor would like, but the portions are much smaller in comparison to North American sizing, and the food is tasty.  Lots of rice, stir frys, fish, shellfish, soups.  Not super high calorie, but definitely not on one's diet list.   I knew going here that I would NOT be dieting, however, I did not realize how hungry I would be either.  So in essence, I ate a lot – a lot of good food (good tasting but not necessarily always healthy), and usually double the portions (did I mention how small the portions were).  Drinking alcohol is not really my style – even though it is really cheap – a beer is like 30 cents – and I just did not feel like it with all the heat.  Water. All I wanted was water all the time.  I felt swollen most of the time due to the heat mixed with jet lag and this is not a great feeling.
Baan Pu Lae – This place was a bit like camping.  Imagine, I was considering bringing my hair straightener – nope no need for that.  I don't think I ever styled my hair once while I was there.  Showers with no hot water, scoop flush – you don't 'flush' the toilet but pour water in the toilet instead, and a fan in our hut – no AC. Coming from snow and being bundled up all the time, it is a bit of an adjustment to go to that extreme in weather in a 2 day period.  And with no real relief from it all you could do was 'adjust' there was no backing out of it.  I have done the 'real' Thailand before, and to experience what everyday is like, this is the best way to go.
The beach was beautiful and empty.  We were right on the edge of a National park so there was one little hotel after us, but it was more ritzy, and the patrons did not really seem to 'like' the beach.  We had many kids playing, so it was great as we always knew where they were.
It was so hot that all you wanted to do was get in the water.  Christmas was spent swimming, eating, laughing with some new friends, and their children.
During the week we did some tourist things – shopping in a nearby town, riding an elephant, napping in the afternoons (as it was just too hot – and this is the cool part of the year).
The following week we went back to Phuket as my brother in law and his wife, and son live there.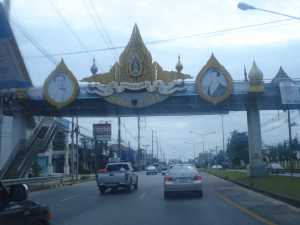 We explored the main part of Phuket, ate at some pretty interesting places (Ceramic Kitchen), visited the mall, swimming, water slides (super fun), went to another island – Koh Rachi and hung out.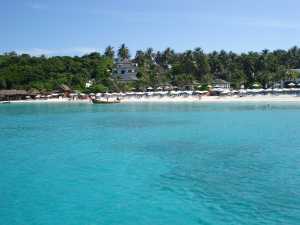 During this time I did not watch my food, or exercise.  Perhaps I just needed the break.   But I did find out I was invited to the 2011 Arnold Classic Fitness International for the second consecutive time.   I was a little concerned that perhaps I should be cleaning up my eating, however, life is meant to be lived, and there was no way I could (under these circumstances) have my lean protein, and fresh veggies on a daily basis. I do have to say by the end of it, I was missing my structure at home.  Three weeks is not enough time to fully adjust to the heat, and well my skin was freaking out, and I really was missing the gym, and my regulated meals.  I love eating clean, and in Thailand it is cheaper to eat off the street than go to the store, get your own food, and then cook it.  I suppose, if I wanted to rock the boat I could have done this, however, this trip was not about me it was about my family.  I adjusted enough to satisfy my needs, but I am looking forward to eating my 'diet food'.
The flight home was much easier than the flight to Thailand.  Perhaps it was because we were in first class on the last leg of the trip and the seats laid flat, so we were all looking to get some sleep.
The time really flew by – I returned home January 9th.  And am still recovering. The time change is 12 hours. So when it is 12 noon here it is midnight in Thailand. It was easier going over as their is sun all the time, and well at home it is not the snow that brings you down but the lack of sun.
So January 9th I started to clean up my diet in preparation for the 2011 Arnold Classic.  I will post some pic, and be blogging about my preparations in another post.
Christmas was a wonderful experience, next year, probably off to somewhere else, I love traveling as you get a perspective of how really small our world truly is.  The more I travel internationally the more I realize 2 things – 1.We are more alike than we are different and 2. People with less stuff are extremely happy.
A.